F2SF Story
Behind most organizations that are committed to making change in the world lies an inspiring, uplifting story. That is definitely true for the empowering CrossFit facility that is simply known as Fit 2 Serve. Long before he became the inspiring mentor and coach that he is today, Fit 2 Serve founder, Derek Del Rosario, was once a little boy who believed that dreams really do come true…
---
Derek Del Rosario was born with the heart of a champion in Monterey, CA. At five years old, a time when many children are experiencing the joy of kindergarten, Derek was watching his life unravel. Derek's parents divorced and he soon became a victim of physical and mental abuse at the hand of a close relative. Although it would mean leaving the mother he loved dearly, this courageous six year-old made the decision to save his own life and move from San Diego to his father's home in Seaside, California, Although safe from the constant abuse, Derek was now living in a 3 bedroom house with ten people –aunts, uncles, and cousins who shared his Filipino heritage. There Derek learned very quickly that he would need to stand up for himself on every level –especially when it came to getting his share of food.
With 10 other relatives in the home, Derek learned to appreciate everything he had, including the small room he shared with his father and brother as well as his designated shower time, since there was only one shower for eight people to share every morning. Derek's new surroundings introduced him to much more than a crowded house. It introduced him to a neighborhood filled with drugs and violence. Derek decided that the best way to survive was to get acquainted with people in this very different and very dangerous world. By third grade, Derek had joined a neighborhood gang. Attacks against (and from) rival schools became commonplace. Two of Derek's close friends were sent away to a Juvenile Detention Center for a long time. Fortunately, Derek had a positive mentor in his life – his father.
Derek's father, Rudy Del Rosario, was one of the top tennis players in the state of California. Mr. Del Rosario took his son Derek under his wings and taught him the game of tennis. It was the love of the game that shifted Derek's focus from the drama of the streets to the excitement of the tennis court. Although Derek still had to walk through a dangerous area known as "the projects" on his way to tennis practice, he kept his focus on the game ahead. By age ten, Derek was competing in tennis tournaments. Derek's work ethic and discipline increased dramatically in sixth grade. Derek began an intense regimen that started with running two miles each morning before school. After school, Derek would drill with his coaches and then more drills at 5pm when his father arrived at tennis club. Derek would end the night by giving his rackets and books to his father and then running the 2-mile trip home in pitch darkness.
By age 14, Derek was one of the top junior tennis players in the nation, Derek and a formal rival Greg Anderson would compete weekly against each other to determine who the best all-around athlete was. Derek and Greg would each pick 7 sports each from basketball, jumping, sprinting, lifting, home run derby to swimming etc and who ever won the most sports would receive the "mojo cup", which was a trophy made by the both of them engraved with the dates of the previous winners. If they were all tied up 7 to 7, the tie breaker would be tennis which they were both highly ranked in the state and in the nation. It is now obvious that Derek was already doing CrossFit at a young age but did not know it. By ninth grade, Derek had perfected his tennis skills enough to garner the attention of the nationally renowned Nick Bollottieri Tennis Academy in Bradenton, Florida, where he was offered a scholarship to spend his high school years at their tennis boarding school.
 This academy has produced internationally recognized tennis champions like Andre Agassi, Aaron Krickstein, Jim Courier, Monica Seles, Gabriela Sabatini, and Boris Becker. However, Derek had formed a strong bond with his family and was not able to bear the thought of being separated from them. He declined the offer. Doing so meant that Derek's tennis game was on the upswing but his lifestyle was not. It was a tremendous financial struggle for Derek's father to get him to his weekend tournaments. At times they even slept in their car because they were unable to afford a hotel. Fortunately, Derek stayed focused for the remainder of his high school years. By the end of high school, Derek had witnessed several of his friends fall prey to drugs and gang violence, while others losing their lives or serving life sentences in the state penitentiary.
Derek accepted the Lord into his life at Calvary Chapel Monterey when he was 21 years old. He recalls it as the best event of his life. Shortly after, Derek was baptized in the Pacific Ocean at Lovers Point near Monterey. Derek quickly learned that being a Christian did not give him immunity from all the sins of the world. Instead, it actually seemed to make him a target for people and circumstances that wanted to test his faith. Derek struggled with his faith for many years, often times riding the fence with his Christianity.
In college, Derek had an opportunity to continue playing tennis. He chose San Jose State University (SJSU), which was a Division 1 college that played a rigorous tennis schedule every year. This decision would allow him to work with a great tennis coach by the name of John Hubbell. Derek received 1 of 2 full ride scholarships given on the Tennis team. After redshirting his first year at SJSU, in his first year of eligibility to play, Derek quickly moved to the top ranks of the team playing number two singles and number one doubles. He kept himself in excellent physical condition and coached a training program for other San Jose State University athletes and students. By his third year of college, Derek was on a major winning streak with individual victories over the teams at top schools like Stanford, UCLA, and California Berkeley just to name a few. It was then that he decided to leave school to play tennis professionally.
Life on the satellite circuit where semi-professionals play was not a glamorous one. Unlike the realms of pro-basketball or pro-football, in tennis you have to pay your own way. This meant living out of his car and surviving on energy bars. Derek kept his dream in front of him, determined to eventually play in the big league: the Association of Tennis Professionals (ATP). Things went well for two years until Derek experienced a tennis player's nightmare – a lumbar injury which affected his lower back. After recovering from his injury, Derek continued to teach tennis on the Monterrey Peninsula including running a tennis programs for kids. Derek was so passionate about this that later in life he often did it without pay. When times got tough, he remembered his favorite bible verse:
Proverbs 3:5-6 Trust in the Lord with all your heart, and lean not on your own understanding; in all your ways acknowledge Him, and He shall direct your paths.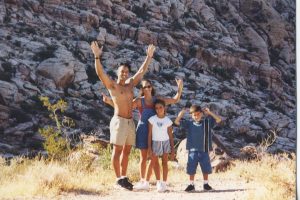 After a few years of limited success with getting financial backing from tennis sponsors, Derek looked to see what more life had to offer. In 1998, Derek recognized that "in order to win, he must learn to lose", so he packed up his things and headed to Las Vegas with $200 in his pocket, and $300 in the bank. Derek took the strength and determination he garnered from his tennis career and created an amazing life for himself and his family: wife Anna Marie, son Christopher, and daughter Alyssa. Within a short time after arriving in Las Vegas, Derek was able to find employment as a personal fitness instructor. This helped him achieve his lifelong dream of providing a home for his family and father. It was extremely important to Derek to demonstrate his appreciation for all the sacrifices his father had made over the years. Derek was incredibly successful at being a personal trainer and within a short time, he opened the first all-women's health club in Las Vegas. Being a master at building relationships, Derek was able to secure 2,000 memberships before they even opened their doors.
In 2002 Derek had over 110 pers
onal training clients and 4 Personal Trainers working for him. After a mild set back with a former business partner, Derek transitioned into real estate. Knowing the value of coaching from his tennis years, he felt that a coach was essential for reaching his goal of becoming the most dominant in his field. Since that time, Derek has been coached by some of the most sought after business coaches in the world, including John Dilemma, John Dessauer, Mike Ferry, Matthew Ferry, Thach Nguyen, JJ Childress, and Robert Allen. Derek learned the most from the Coach of all coaches – the Lord Jesus Christ. Derek's ability to build great relationships helped him achieve phenomenal success.
In early 2008, Derek began to feel the impact of the harsh economic times in the housing market. By the end of the year, Derek had hit rock bottom financially. After many years of wandering in and out of church in pursuit of what was deemed as success in the eyes of the world, Derek felt a stirring in his heart and soul.
He knew deep inside that he had always been running from the calling that the Lord had put on his heart years ago. Derek also knew that even with all the coaches, mentors, and success he had experienced in his life, nothing measured up to the Lord Jesus Christ – who never gave up on him. As he sat pondering on his life being torn apart, Derek asked, "God how do I do this?" The Lord answered Derek's prayer with a verse that encouraged him to run towards the calling that had been place on his heart:
Isaiah 43:4 Since you were precious in My sight, you have been honored, and I have loved you, therefore I will give men for you, and people for your life.
Derek is so incredibly thankful to God for stripping away the things that were thought to be valuable and replacing them with clarity and purpose. Now, Derek is able to serve others in the way that Christ has taught him to.
Derek has been serving at Calvary Chapel Green Valley since 2008 and in 2010 Derek and his wife Anna Marie came on board as Jr. High Youth Leaders at Calvary Chapel Green Valley.
Derek has returned to his passion of helping kids and launched a new non-profit in 2009 called EK2G™ (Exposing Kids to Greatness) Foundation.
EK2G.org mentors motherless and fatherless kids. Their vision is: Kids maximizing their God given gifts to find and fulfill their purpose in life.
Derek knew that he wanted to combine serving others with people living a healthy, spiritual and physical life. This was his vision for both kids and adults alike. Therefore, in 2012 Derek combined his years of fitness with CrossFit. This is how the name Fit 2 Serve was born. The vision at F2SF is: BECOMING FIT TO SERVE OTHERS! Derek is a firm believer that life is not about ourselves but rather about others, and the only way to be a servant to others is to have the endurance to run this race we call life. The culture at Fit 2 Serve is one of encouragement and safety for kids and adults. Fit 2 Serve not only looks at the physical health aspect but most importantly spiritual health. Giving you a well-balanced life to do more than you could ever do on your own!
Derek wanted to give special thanks to Zack & Lindsay, the owners of CrossFit Max Effort in Las Vegas, for their great coaching and dedication to their members. Zack and Lindsay have helped Derek understand what a CrossFit Community looks like!
Galatians 5:13: For you brethren, have been called to liberty; only do not use liberty as an opportunity for the flesh, but through love serve one another.
---
Derek's Credentials
U.S.T.A Tennis Professional
Certified Personal Trainer
CrossFit Level 1
CrossFit Level 2
CrossFit Coaches Prep
CrossFit Olympic Lifting
CrossFit Endurance
CrossFit Gymnastics
CrossFit Mobility
CrossFit Football
CrossFit Kids